egg tray we can design for you
We produce your packaging with love and passion
Helping Fortune 500 companies and you
Transparent clear plastic egg tray
Egg tray plastic material: (PET, PVC, PP), material with excellent transparency.
– Egg tray can be made as per customer's request and design.
– Egg tray can be made of different thickness of the material, with different box size, different customized printed label.
– Excellent quality and competitive price.
We can help you to design good looking impressive packaging.
Certified by ISO 9001, ISO 14001, FDA, ROHS, GMP. With leading quality.
Offer you the super competitive prices for good quality packaging
| | | |
| --- | --- | --- |
| Product name: Egg tray | Material: PET, PVC, etc | Plastic type option: 100% vigin / recycled plastics |
| Usage: to pack different sizes of egg | Colour: Clear transparent | Size: Customized to fit the eggs |
| Design: Customized | Material thickness: Customized | Certificate: ROHS, SGS, ISO, FDA |
| MOQ: 1000 PCS/design | Delivery time: 4 days | Sample: available, sample is free |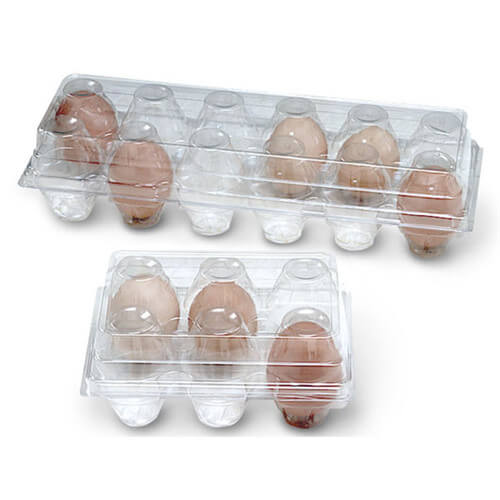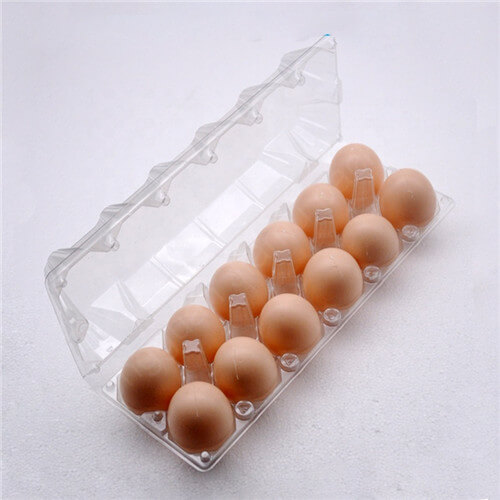 Egg tray manufacturer, wholesaler
We have transparent clear plastic egg tray in 4-36 holes, can be customized, clear color, red color, pink color, etc.
We're a leading supplier, we have had some tray designs, color transparent clear, we can produce the customized tray for you.
Firstly, our supplying egg packaging is at excellent quality and competitive price.
Secondly, our egg trays have many types of sizes and designs, you can always find the egg tray that suits your products.
Our factory is specialized in making plastic boxes & plastic cases, clear plastic folding boxes, PVC boxes, PET boxes, and plastic PP Boxes. We have many customers who are very satisfied with everything of us.
We have been in business for more than two decades and have some customers who are fortune 500 companies and some are having very famous brands. Such as L'Oreal, Nivea, Starbucks, JBL etc. and have a very happy and long-term cooperative relationship with these customers.
We're highly trusted by these names and they never hesitate to offer their gratitude for our services, if the top companies are using our services, that's a clear sign that maybe you should as well.
Contact Us now to request a quote or free sample for more high-quality and good price plastic boxes.
Sample lead time:
3 days to make the sample.
Production lead time:
100 thousand pieces clear box in 3 days.
ISO 9001, ISO 14001, OHSAS 18001, FDA, GMP, RoHS, REACH, SGS

We are an excellent manufacturer of transparent plastic packagings, can provide you with high transparency, strong, economical, easy to use egg tray.
In the process of egg transportation, storage, sale or use, egg tray maintains and enhances the value of eggs and protects the state of products.
Egg tray uses appropriate materials, design and auxiliary materials, and applies certain technical methods to avoid the decline and damage of product value caused by changes in various conditions during the circulation of eggs.
In sales, egg trays can attract consumers to purchase eggs, and facilitate consumers to carry and store eggs.
Trays for egg packaging have protective, convenient, commercial, psychological, accommodating, and reusable functions in the egg industry. It plays a role in protecting eggs, reducing losses, facilitating transportation, promoting distribution, beautifying commodities, decorating inspiration, and promoting sales. , To facilitate consumption, increase value and increase income.
Regarding the design and development process of egg trays, when the earliest supermarkets sold eggs, they simply packed the eggs in plastic bags, paper bags or simple volumes. Sometimes consumers put the purchased eggs in a container or bag they carry with them. Carrying eggs in a crude form is not only unsightly, but consumers often find that when they take the eggs home, some eggs are damaged due to squeezing or collision.
At that time, protective egg packaging was only used when wholesalers transported eggs in large quantities, and no special egg packaging was designed and provided for consumers.
Later, in order to provide convenience to consumers, and to allow egg sellers to stand out from the competition, the egg tray designed for consumers was gradually designed and manufactured for consumer use.
The emergence of egg trays greatly facilitates the consumer's need for storage, carrying and transportation of eggs, so that up to now, most eggs use transparent trays as packaging.
Nowadays, the commodity economy has developed further, which has put forward new demands for packaging trays for eggs.
Higher requirements are placed on the aesthetics, impact resistance, transparency, environmental protection, and reusability of egg tray.
The single-material egg tray packaging is gradually replaced by a mixed container in which several different packaging materials are combined. For example, the packaging container is filled with cushioning materials or strapped, or the two materials are used for packaging.
The label printed on egg tray allows consumers to understand egg information in more detail, such as nutrients, production date, shelf life date, and manufacturer information.
Not only eggs, but many varieties of egg products in retail also use transparent plastic egg trays, such as duck eggs, quail eggs, goose eggs, etc., all use clear trays for egg packing.
Nowadays, egg tray has become an indispensable packaging for the egg retail industry, because it greatly affects the sales of eggs, because there are not too many consumers today who are willing to buy eggs in simple packaging. 
Egg trays are produced mainly by plastic material PET, PVC
PET material, called Polyethylene terephthalate, commonly known as polyester resin, is the most important species of thermoplastic polyester.
PET is a milky or light yellow highly crystalline polymer with a smooth and shiny surface.
PET has good creep resistance, fatigue resistance, abrasion resistance and dimensional stability.
With the greatest toughness in thermoplastics:
– It is less affected by temperature, but has poor corona resistance.
– Non-toxic, weather resistance, good chemical resistance, stability, low water absorption,
– Resistant to weak acids and organic solvents, but not tolerant to hot water immersion and alkali.
– PET resin has a high glass transition temperature, slow crystallization speed, long molding cycle, long molding cycle, large molding shrinkage, poor dimensional stability, crystallized molding is brittle, and low heat resistance.
It has a highly symmetric molecular structure and has a certain crystal orientation ability, so it has high film-forming and forming properties.
Material has good optical properties and weather resistance, and amorphous PET has good optical transparency.
PET is used in packaging: all kinds of food, drugs, non-toxic and sterile packaging materials.